Mickel is Victorious at Oulton Park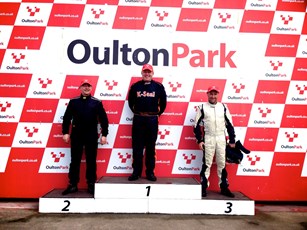 The opening round for the 2015 season took place at Oulton Park and John Mickel was keen put his Oulton Park demons to rest as, the very last time he raced here, he was hospitalised following a spectacular multi barrel roll on the very first bend of the race final two years ago. John said "I wanted to prove that my accident was well and truly behind me. With my bright and brilliant number 4, K –Seal Legend, I wanted to perform to the very top of my ability here and with an amazing team, that's exactly what we did!"
Race Report
Race 1
Grid Position
6th
Finish Position
1st
For the opening race of the year, the track was starting to dry following the monsoon that occurred overnight. Mickel started 6th on the grid and approached the first corner with trepidation knowing what had happened the last time he had raced here.  All went well and Mickel soon got into a good rhythm, winding his way through the Oulton Park circuit.  Having overtaken a couple of drivers, Mickel found himself chasing down the leaders. The slippery surface claimed a few victims including the race leader and team mate Henry King. On the final lap, Mickel was lying in second place and felt certain that a win would be out of his grasp until the leader made a mistake and put himself off, leaving Mickel to take the very first win of the year. 
Race 2
Grid Position
15th
Finish Position
1st


The track was dry and with a starting place of 15th, Mickel had a lot more work to do. Mickel is renowned for his ability to carve through the traffic and by the end of lap one, he was as high as eighth place. By the end of lap two, Mickel was in fourth place and third place before the end of lap three. Paterson and O'Brien remained in-front leaving Mickel to pick them off one at a time to take the win despite putting two wheels on the grass to do so. 
Race 3 - Final
Grid Position
21st
Finish Position
1st


Having achieved two wins and being the highest point's earner, Mickel had to start at the rear of the grid for the Legends Final. He displayed amazing race craft to pick off drivers one by one. He tagged on to cars, demonstrating perfectly how to bump draft, achieving the lap record for the weekend and possibly the lap record for Legends racing to date.  Mickel was 13thafter just one lap, 7th by lap three and with an extra two laps in the final, Mickel kept climbing. With five laps to go, Mickel saw his teammate, Henry King, ahead of him. Having caught Henry, the teammates raced together for the final lap, getting past the leaders and claiming a Mickel Motorsport 1st and 2nd place at the chequered flag.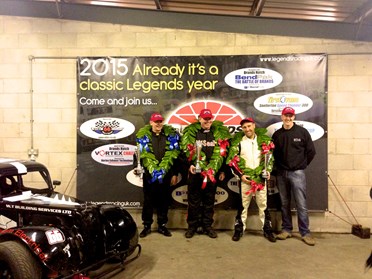 Mickel comes away with 600 points, ahead of Whitelegg with 530 points and Paterson with 480 points. Henry King sits securely in fifth place with 395 points. Rounds 2 & 3 are less than two weeks away at the awe inspiring venue,  Brands Hatch.
We would like to thank all our sponsors and marketing partners, followers and fans and hardworking crew members.  This is a great start to 2015. We would also like to introduce our new sponsors K-Seal and MVIS into the fold of our winning team.
Related Posts: