Rolling Start for Mickel Motorsport at Oulton Park
Press Release 21st March 2018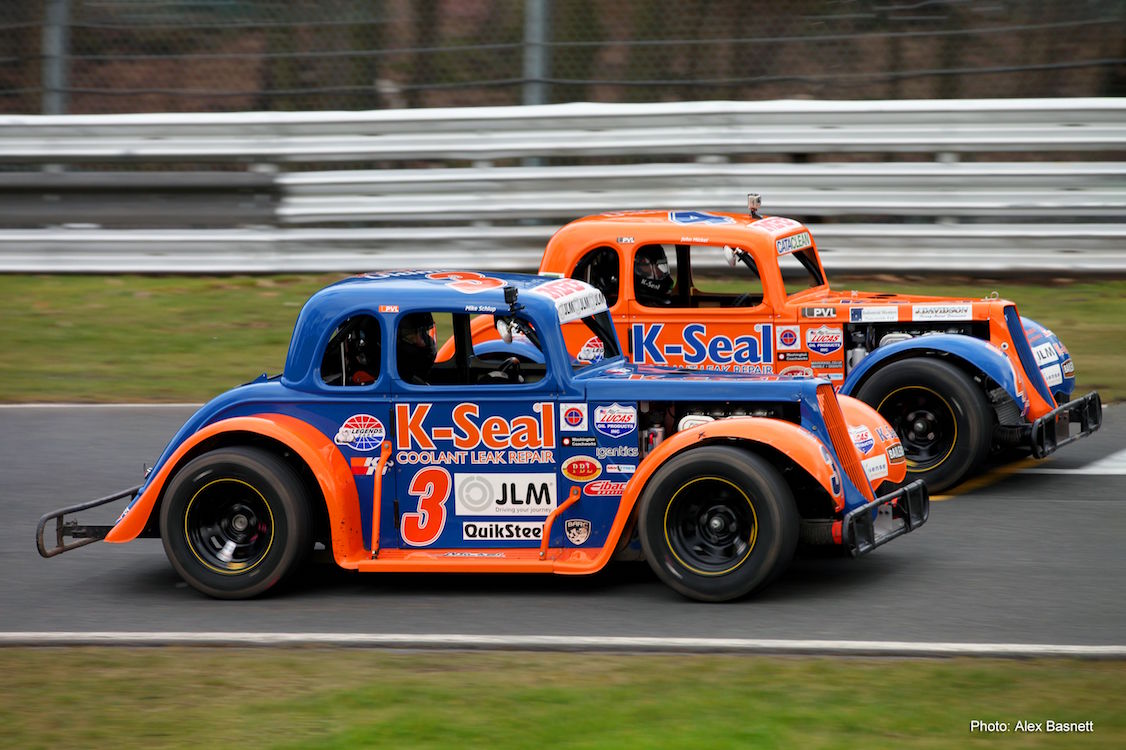 John Mickel #4 – K-Seal
John Mickel returned to the track in his re livered #4 K-Seal machine to defend his 2017, UK record third title over the course of 9 weekends throughout 2018.
Paul Simmons #51 - Baileigh Industrial Ltd
Experienced Legends Driver, Paul Simmons returns in the #51 black and perfectly fabricated Baileigh Industrial UK machine.
Mike Schlup #3 – K-Seal Guest Driver
Mike Schlup, MD of K-Seal, returns to increase his experience in Legends Racing in his #4 reversed livery car.
Round 1
With snow impeding the racing all day, the opening round saw gloomy skies and a slippery cold and wet track.  Visibility was low and drivers were forced to wipe snow from their visors.
John Mickel showed his legendary race craft throughout the day hitting the front of the pack on every race, but the wet conditions favoured the other driver's set ups. Despite a red flag stoppage following a roll on corner 1 of race 1, John still managed to clinch a 2nd place finish. He drove hard to finish 5th in race 2 which saw two yellow flag stoppages and despite a surge through the pack from 22nd position on the start grid, he finished 6th in the Final, with just 1.8 seconds dividing the top 9 drivers over the finish line.
This places him in 4th position in the Championship after the completion of Round 1.  The points, however are very tight and with 8 weekends, 16 race days and 48 races still left to run, with up to 200 points per race on offer, this is a solid start for the him.
The #51 mean, black, Baileigh machine looked fast on track. With the very wet conditions, Paul got to grips with the car and took a very respectable 11th and 7th place finish in the opening two races and 10th in the Final. These solid performances leave Paul positioned 8th in the UK Championship standings.
Mike Schlup, in the #3 new blue and orange livery K-Seal Legend, tested the limits of his car right from the outset giving him a 16th in race 1, a DNF in race 2 and a 26th in the very hectic Final. Mike now stands in a very respectable 20th place in the Championship with 29 drivers contesting for the points.
Championship Points after Round 1
| | | |
| --- | --- | --- |
| Position | Driver | Points |
| 1 | Jack Parker – 13 | 540 |
| 2 | Will Gibson – 57 | 500 |
| 3 | Steve Whitelegg – 66 | 490 |
| 4 | John Mickel – 4 | 485 |
| 5 | Miles Rudman – 7 | 460 |
| 6 | Ben Power – 55 | 390 |
| 7 | Connor Mills – 82 | 355 |
| 8 | Paul Simmons – 51 | 330 |
| 8 | Neil Shenton – 35 | 330 |
| 10 | Sean Smith – 21 | 295 |
| 11 | Marcus Pett – 79 | 240 |
| 11 | John Patterson – 73 | 240 |
| 13 | Nathan Antony – 29 | 230 |
| 14 | Sy Harraway (r) – 83 | 180 |
| 15 | Sebastien Kluyskens – 17 | 175 |
| 16 | Giles Verleyen – 33 | 130 |
| 17 | Robert King – 74 | 110 |
| 18 | Rickie Leggatt – 26 | 80 |
| 19 | Stephen Treherne – 12 | 70 |
| 20 | Mike Schlup – 3 | 65 |
| 21 | James Hall-Morton (r) – 32 | 60 |
| 22 | Paul Simkiss – 99 | 50 |
| 23 | Bill Read – 67 | 30 |
| 24 | Miikka Riihimaa – 113 | 25 |
| 24 | Jonty Norman – 43 | 25 |
| 24 | Nick Bridgeman – 68 | 25 |
| 27 | Phil Turner (r) – 247 | 15 |
| 27 | Nic Grout – 44 | 15 |
| 29 | Jean Michel Poncelet – 65 | 0 |
|   | Matthew Pape – 24 | 0 Not in championship |
|   | Guy Fastres – 48 | 0 Not in championship |
|   | Gerard McCosh – 69 | 0 Not in championship |
Related Posts: