Silver Lining at Silverstone for Mickel Motorsport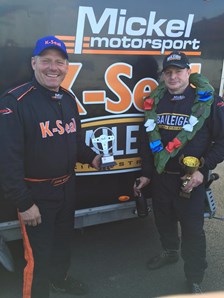 John Mickel #4 – K-Seal
John Mickel drove the wheels off his vibrant orange #4 K-Seal car completing three races in first place, two races in second place and one broken prop shaft leaving John stranded in just one race over the weekend. His speedy machine driven in association with MVIS, Cataclean, Dickies, Lucas Oil and Baileigh Industrial UK, has assisted John in extending his lead in the Championship by over 900 points.
Paul Simmons #51 - Baileigh Industrial Ltd
Paul Simmons has extended his second place position in the Championship following his winning performance at Silverstone in the perfectly fabricated #51, black Baileigh machine. He received podium positions on both days with a second and a third place trophy.
Mike Schlup #3 – K-Seal
Mike returned to the track this weekend and completed all six races and has extended his lead in the Team Championship rankings.
The next two rounds will be held at Snetterton on 10th & 11th September.
Related Posts: